Project/Product Management
Case Study 1 - Next Generation Anesthesia System
Winthrop Management Services provided consulting, management services, and support for the development of a next-generation Anesthesia machine. Winthrop Management Services investigated requirements, defined a project plan, and coordinated outsourcing development and procurement for the development of the new Anesthesia machine that complied with updated western Europe specifications, along with modifications that increased the product functionality and availability achieved through the introduction of updated hardware and software.
The responsibilities and support Winthrop Management Services provided were a complete end-to-end project/product management effort consisting of risk assessment and management, metrics and quality monitoring and reporting, independent audit and compliance services, needs analysis, development of a data collection strategy and analysis, vendor/subcontractor interaction, report development and production, quantitative and qualitative analysis of data, and subject matter expertise. Winthrop Management Services personnel employed Six Sigma initiatives to drive project to completion.
The project consisted of a complete assessment and redesign of the client's flagship product. The project objective to address changes needed to meet updated specifications for use in western Europe and to reduce costs and improve user-patient-machine interaction to remain competitive in the the client's target market. Along with the required modifications to meet compliances and regulations, key enhancements were identified that would enable the client to achieve differentiation to their competitors.
Winthrop Management Services compliance experts worked closely with the customer's compliance engineer through all phases of prototype and system testing. This included performing internal test and audit against specification, along with assistance in the outside testing and filing for compliance validation/certification. Winthrop Management Services compliance services were utilized to assure development and ongoing operations followed recognized standards for medical related devices through verification, validation, and physical testing that the system meet electromagnet compatibilities and physical compliance.
System-level test plans (final and field-ready verification) were developed by Winthrop Management Services and executed by the test team at all levels of system introduction including final test and assembly, alpha (system burn-in) and beta (customer/field) testing. Winthrop Management Services maintained control of signoff to release and final approval prior to general availability of the new platform. Post-mortem reviews were chaired and performed by Winthrop Management Services to identify areas of the development process in comparison to internal quality, CMMI-DEV, and six sigma guidelines. This enabled Winthrop Management Services and the client to identify future "areas of improvement" for follow-on projects to improve quality and development efficiency. As a direct result of Winthrop Management Services's project management and oversight the client launched his new anesthesia system in December 2007 three months ahead of planned release with an additional 23% savings in burdened manufacturing cost than projected.
The client cited that Winthrop Management Services's innovative and aggressive approach to this project allowed them to greatly reduce the development cycle for the new system, while simultaneously reducing product cost and increasing operational efficiency.

Case Study 2 - Cockpit to Operating Room (IRAD Project)
Through a partnership with a leading manufacturer of anesthesia workstations, Winthrop Management Services performed an Internal Research and Development (IRAD) project to determine if the introduction of Crew Resource Management (CRM) to healthcare environments can achieve operational efficiency benefits that it has provided to the aviation industry for 25 years.
The goal of the project was to analyze if CRM can improve communication among health care teams that will translate into fewer errors and the loss of fewer lives, with concentration on the technology component of CRM as a feeder to the "best practices" process improvement that CRM can achieve.
The Winthrop Management Services concept was to design displays that advance the level of situation awareness that bring the modern day operating room on par with the current primary flight and navigation instrumentation found in commercial and military aircraft with the intention of detecting and preventing small errors before they become more serious.
Winthrop Management Services developed a technology solution that allowed for an ergonomic display that is fed data from various medical devices depending upon the specific operation.
Through the introduction of consolidated and centralized display and interfaces to the team leader (lead surgeon), the team leader not only achieved efficiency in the communications between equipment and human, but can also provide for increased quality and safety of Operating Room (OR) operations by having direct and simultaneous visual access to the patient data collected and presented from multiply devices dispersed within the OR. This capability enables the team leader to directly view and confirm patient status/state beyond the typical human to human interaction of the OR team.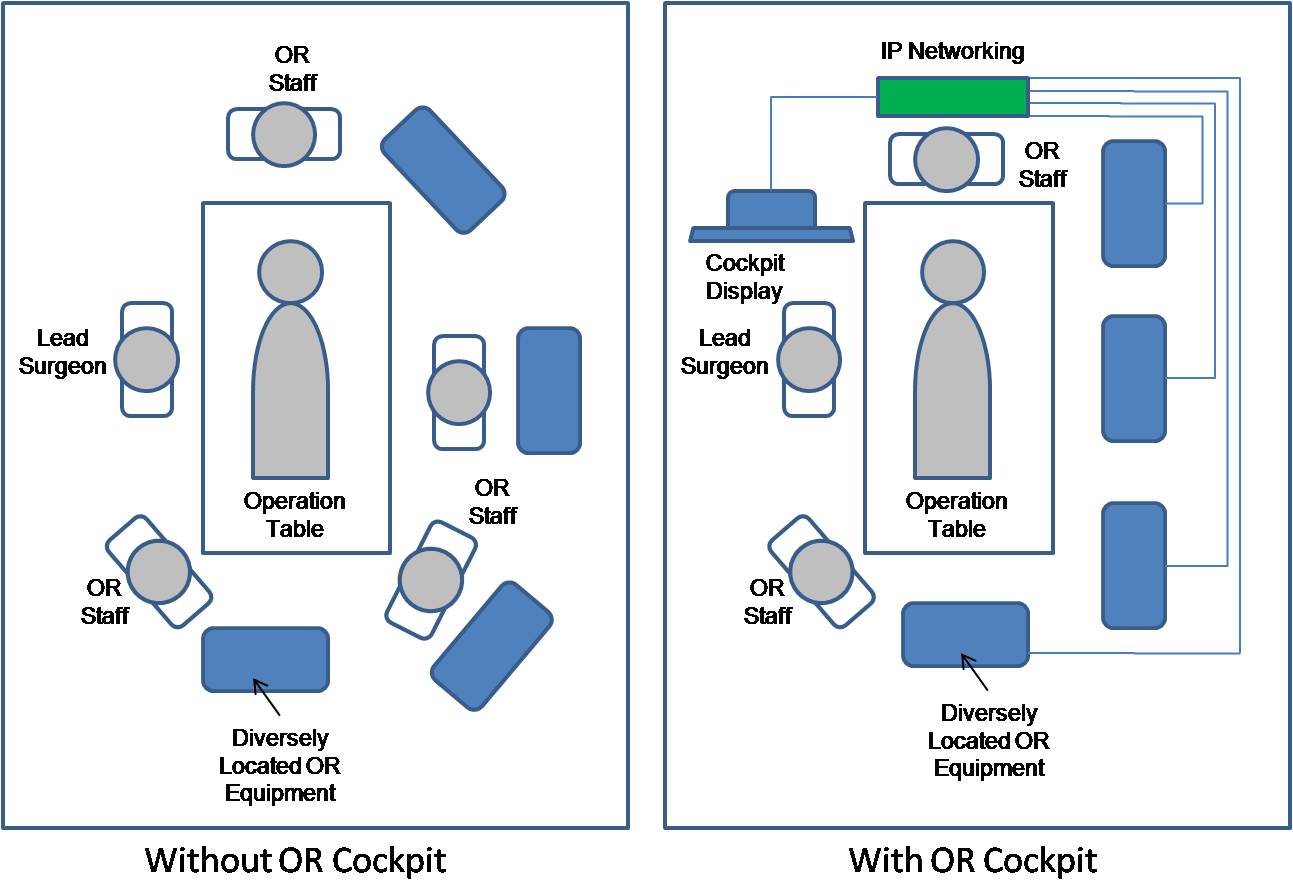 The Winthrop Management Services project concluded that OR efficiency was greatly improved by enabling surgeons to have less dependent on the operating room staff, assuring they have direct and complete control of the patients health, while removing the chance of error when too many individuals are simultaneously performing actions during a surgery, and potentially frees nurses to direct more of their attention to the patient and other patient-care duties.